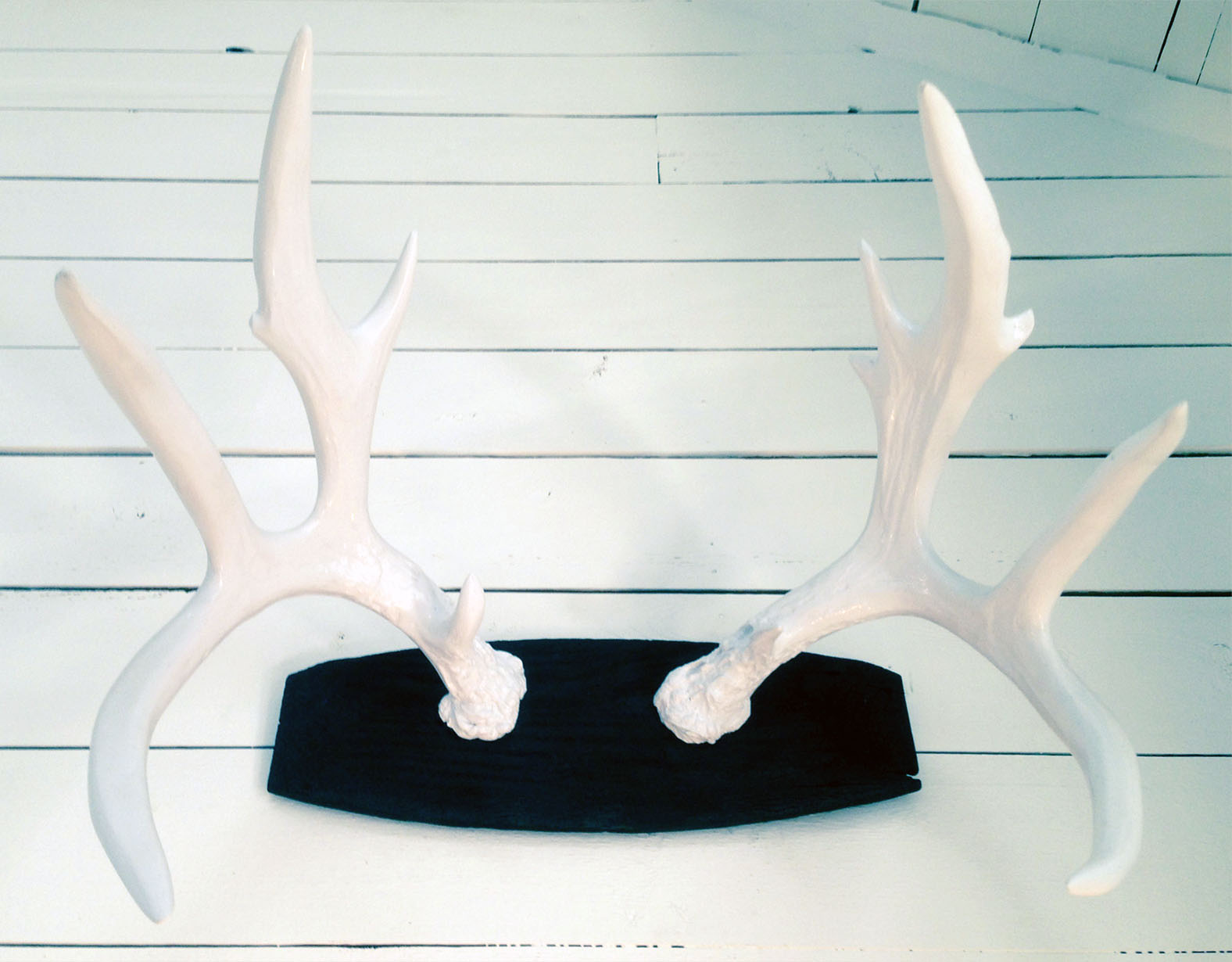 Ghost
Cast Porcelain and Charred White Oak
30" width x 14"  height x 14" depth
CAN$5000
The piece is now available to view in the Cabin.
David Robinson will be our Artist in Residence later this year.
David Robinson is a highly respected Vancouver mixed media artist, working in ceramic, wood, metal, and gypsum. His sculptures depict stories from the earth, from folklore and mythology; often in conversation with modern subcultures. He holds a BFA from Emily Carr University of Art + Design, is an arts educator at The Shadbolt Centre for the Arts, and works from his Chinatown studio. His sculpture and installation works are exhibited in galleries in Canada and internationally. Robinson's work is often incorporated in St. Marie Art + Design and Good Animal design group. He is currently assisting with Artist Link Leisure on this Summer 2015 installation for The Glastonbury Music Festival's Shangri-La Interaction and Public Art Installation (http://www.shangrilaglastonbury.co.uk/)
He believes through creating and altering examples of natural beauty, he is both
exploring & envisioning the divinity of the organic world.
 GHOST:
Robinson's great great great grandfather was the noted explorer and aristocrat John Fall Allison, of Allison's Pass, British Columbia. He was the first European settler in the area and the founder of Vermillian Bluffs, which later became the town of Princeton, BC. Around 1920, John Falls son, the youngest of fourteen children, Alfred Stratton Allison took this white-tailed deer down, while hunting with his brothers, near the Similkameen Valley River. The rack was mounted at the Princeton Homestead, where it had remained as a prized family heirloom for almost a Century.
The sculpture was recreated from a 15 piece plaster mould, which was constructed over two years. Robinson was very enthusiastic to work with this treasured family artefact.  Honoured to beautify this iconic animal form by: "altering, queering and exhibiting the work with exaltation and representation of fragile beauty".
Contact:
Artist Atelier
DMR Ceramics
729 Gore Ave.
Vancouver, BC, V6A 2Z9
Mobile 778 709 3163
Facebook DMR Ceramics
Instagram@dmrceramics